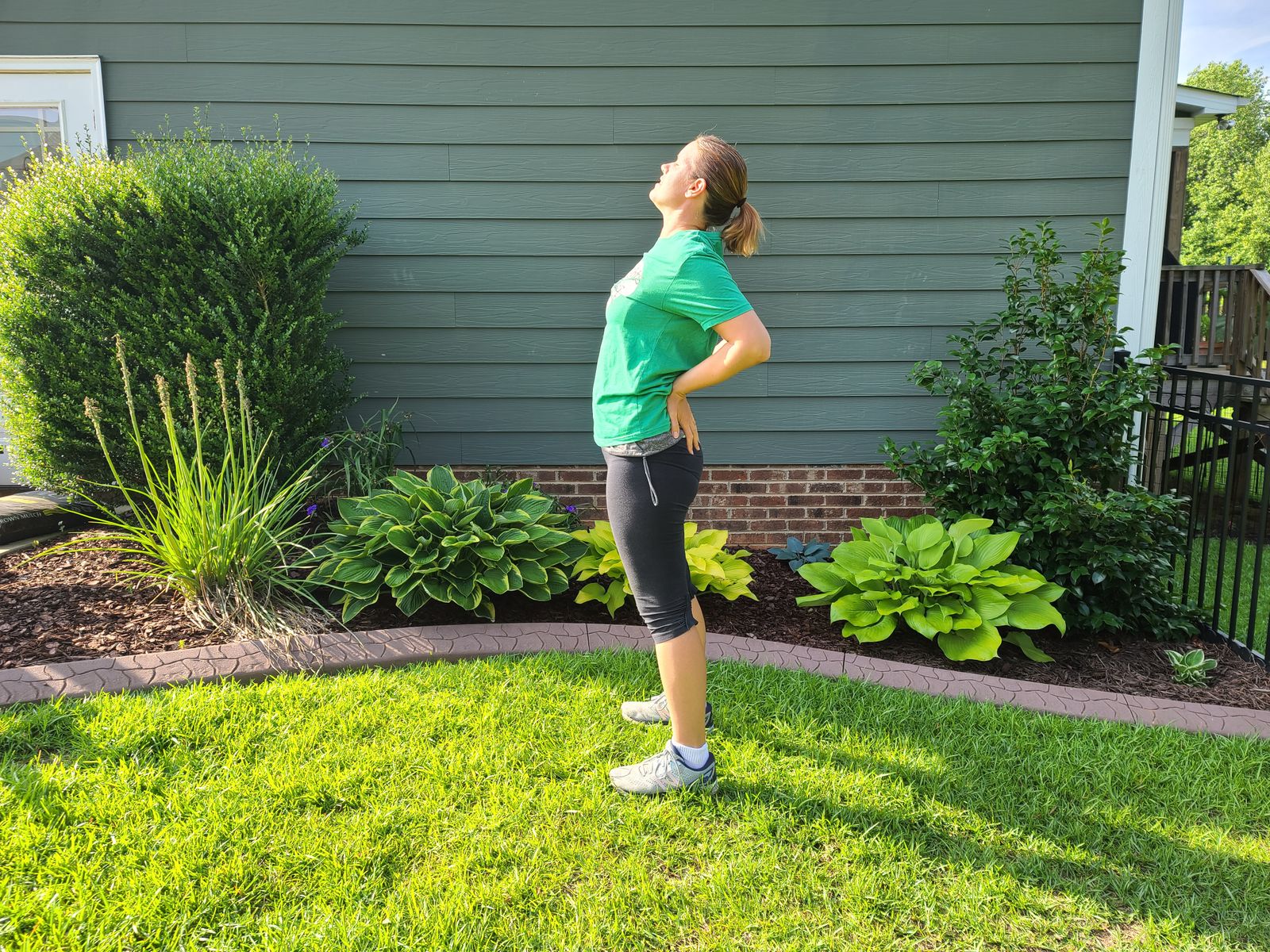 This topic came up in class because many of my students; and probably you if you are reading this, enjoy spending time gardening. It's a great way to spend time outdoors and to move your body. You might enjoy a flower garden or a vegetable garden. Whatever your garden looks like, no matter how big or small, the work involved can be taxing on the body. There are repetitive movements or positions that aren't ideal that we have to hold for periods of time. Bending over and squatting or kneeling can take a toll on the back and the hips.
I took a little stroll around my garden and my husband captured some shots for you to see how you can incorporate yoga and stretching right into your gardening routine. Allow yourself to take short breaks to move the body in different ways and prevent the build up of tension from occurring in the first place.
1. Half Moon (Side Stretch)
Start from a standing position with your arms by your sides and reach them up to the sky with an inhale, interlace the fingers and as you exhale start to lean to the right. Keep pressing through both feet and lengthen through both sides of your body, not forcing this. Inhale back up to center and then exhale to the other side. It feels great to flow this side to side a few times and then maybe settle for a few breaths on each side. This pose really helps to lengthen the muscles all along the sides of the body from the hips to the shoulders and makes space for the breath.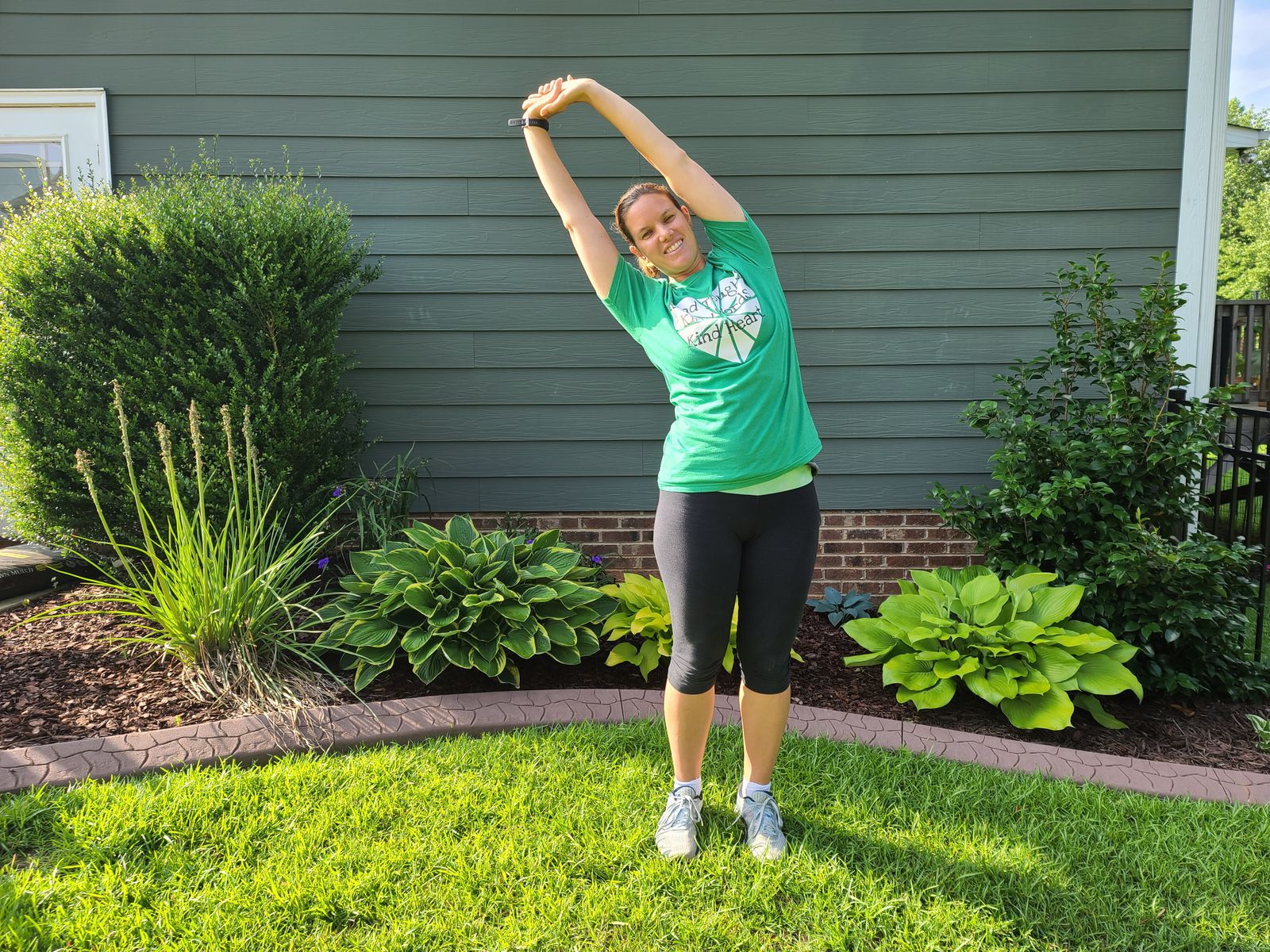 2. Chest Opener
This pose is great to counter the forward bending posture in the upper back that tends to happen when gardening. Stand with your feet a little wider than hip distance, roll your shoulders back and then either place your palms on your low back or interlace your fingers and open up your chest as you inhale and then as you exhale start to fold from the hips, allowing the knees to soften, you can stop halfway or continue to move your head towards the floor and your hands away from your back (shown in photo) Stay for several breathes, not forcing the stretch and feel the opening in the front of the chest. Keep you knees soft so as not to overstretch the hamstrings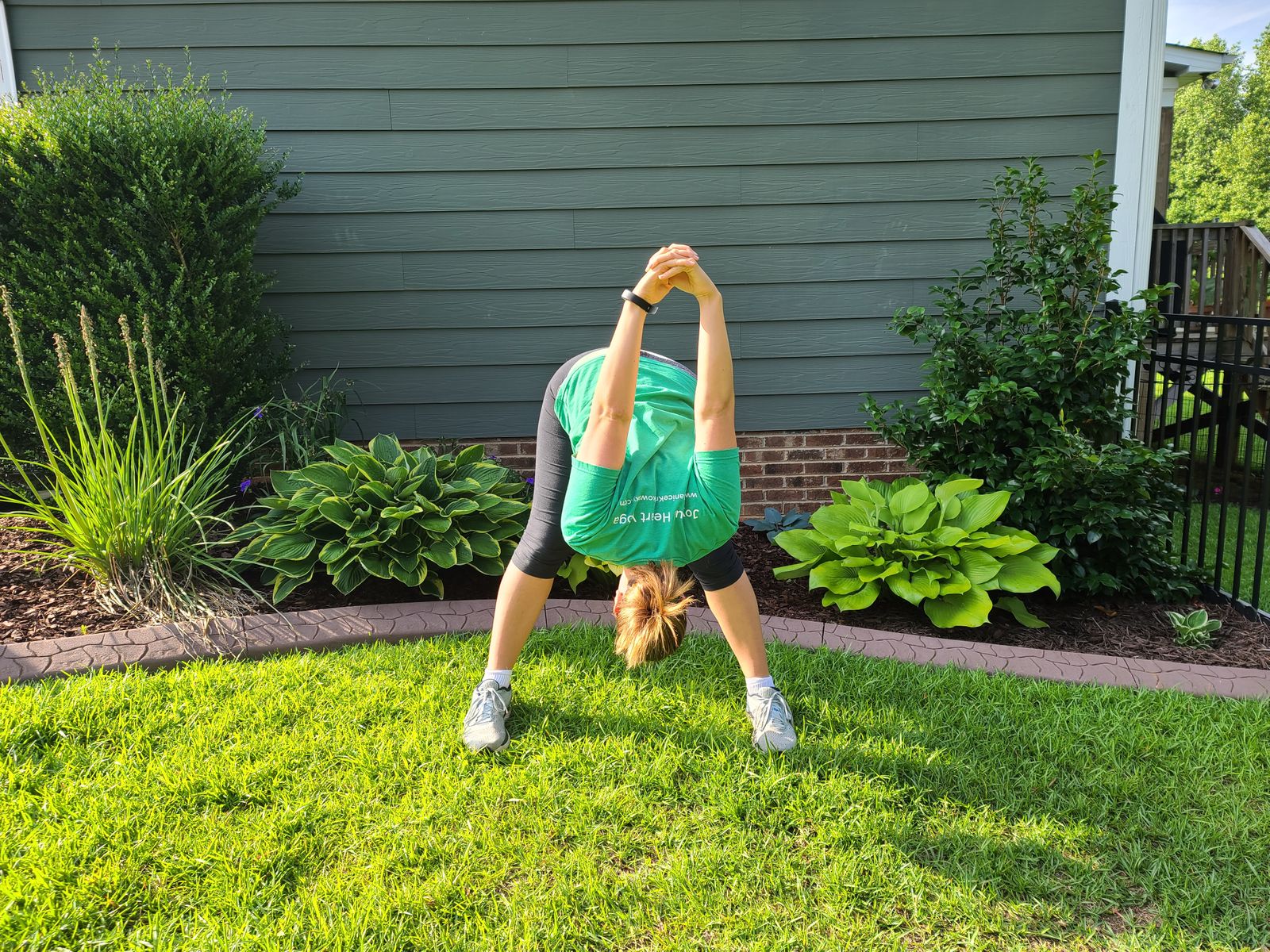 3. Standing back bend
Stand with your feet hip distance apart, roll your shoulders back and bring your hands to your low back, allow the knees to soften and bit, keep your core engaged and lift your heart towards the sky. This should feel so yummy and is easy to sneak in between tasks in the garden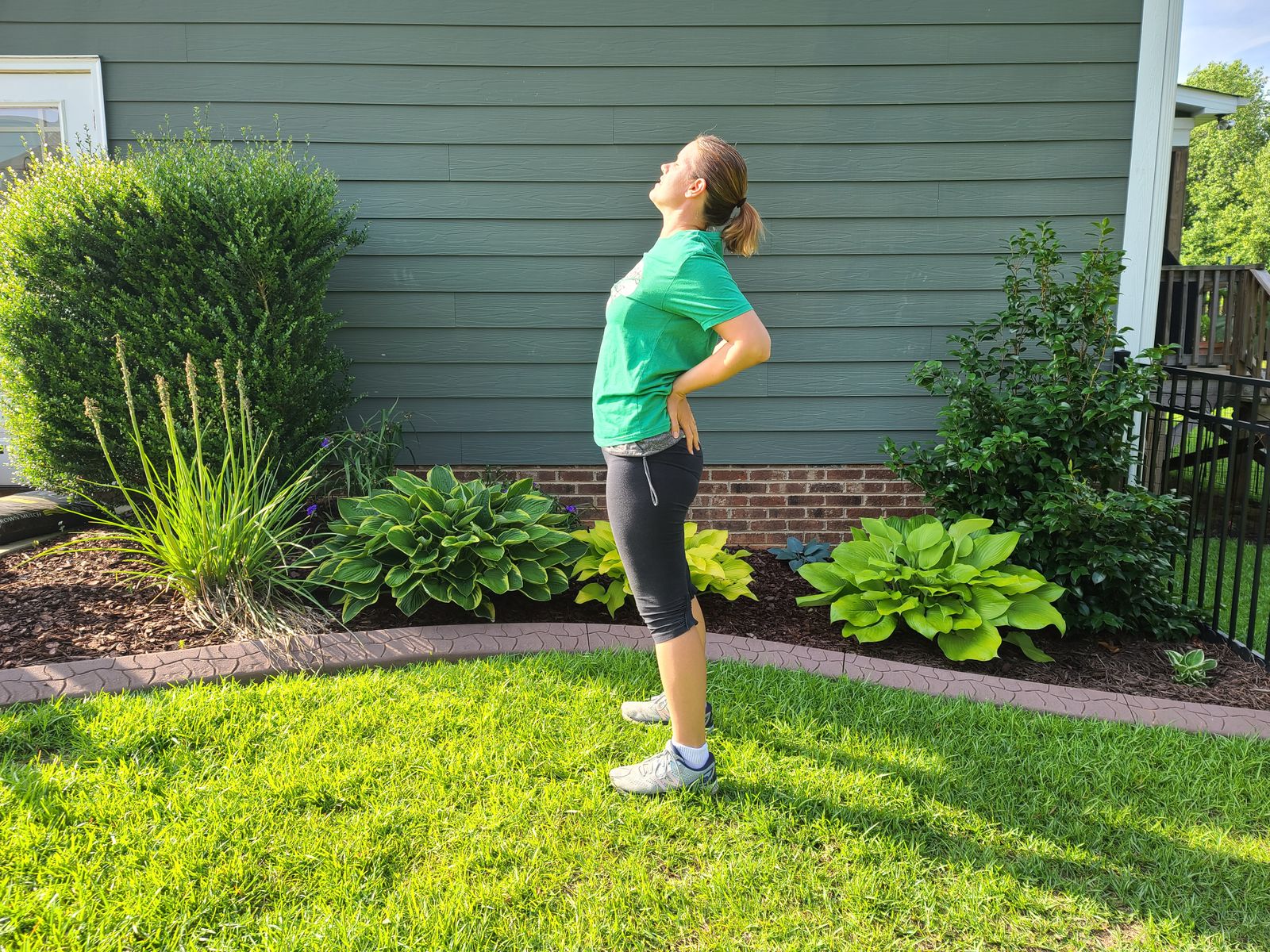 4. Yogi Squat (Malasana)
This pose may look intimidating, but it's great to release the low back and hips. You don't have to go as deep as I did in the picture. Stand with your feet a little wider than hip distance and toes turned out. I like to flow this a few times before I settle to get a good feel for the distance between my feet and how low I can settle. You want to keep your chest lifted and your knees pointing in the same direction as your toes. Only go as low as feels good, remember we're trying to release tension not create more!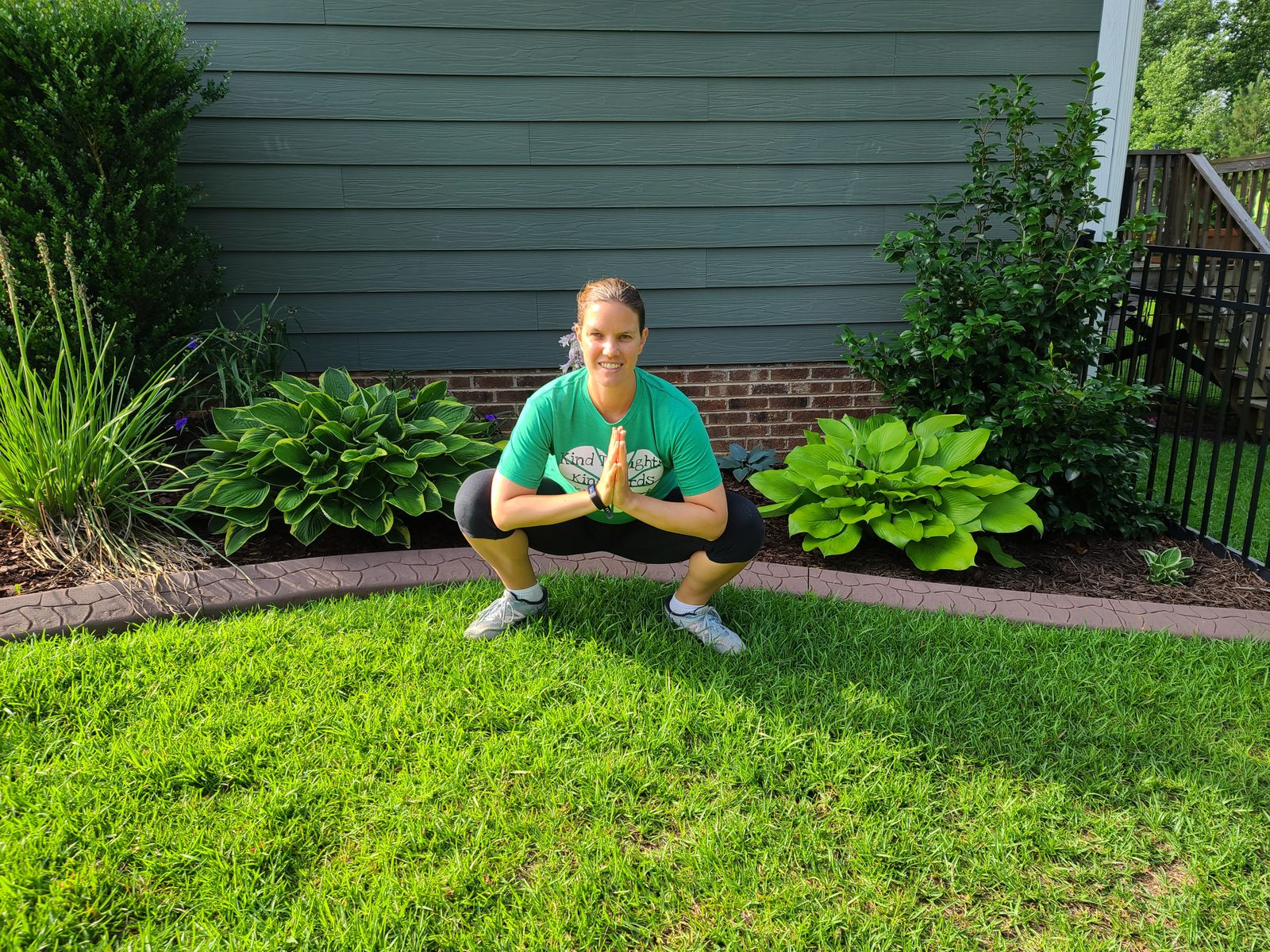 5. Pyramid
This pose has so many benefits including stretching the hamstring, back and chest and strengthening the feet and ankles. From standing step one foot back so that the whole foot lands and your hips are still pointing forward. Place your hands on the hips, take a breath in and as you exhale start to hinge forward from the hips. Your front leg is working toward straight, but can stay a little bent if feeling too much in the hamstring. Try to pay attention to keeping the upper back long and not rounding in the shoulders, hips stay level to the ground and each other. Stay for several breaths and then do the other side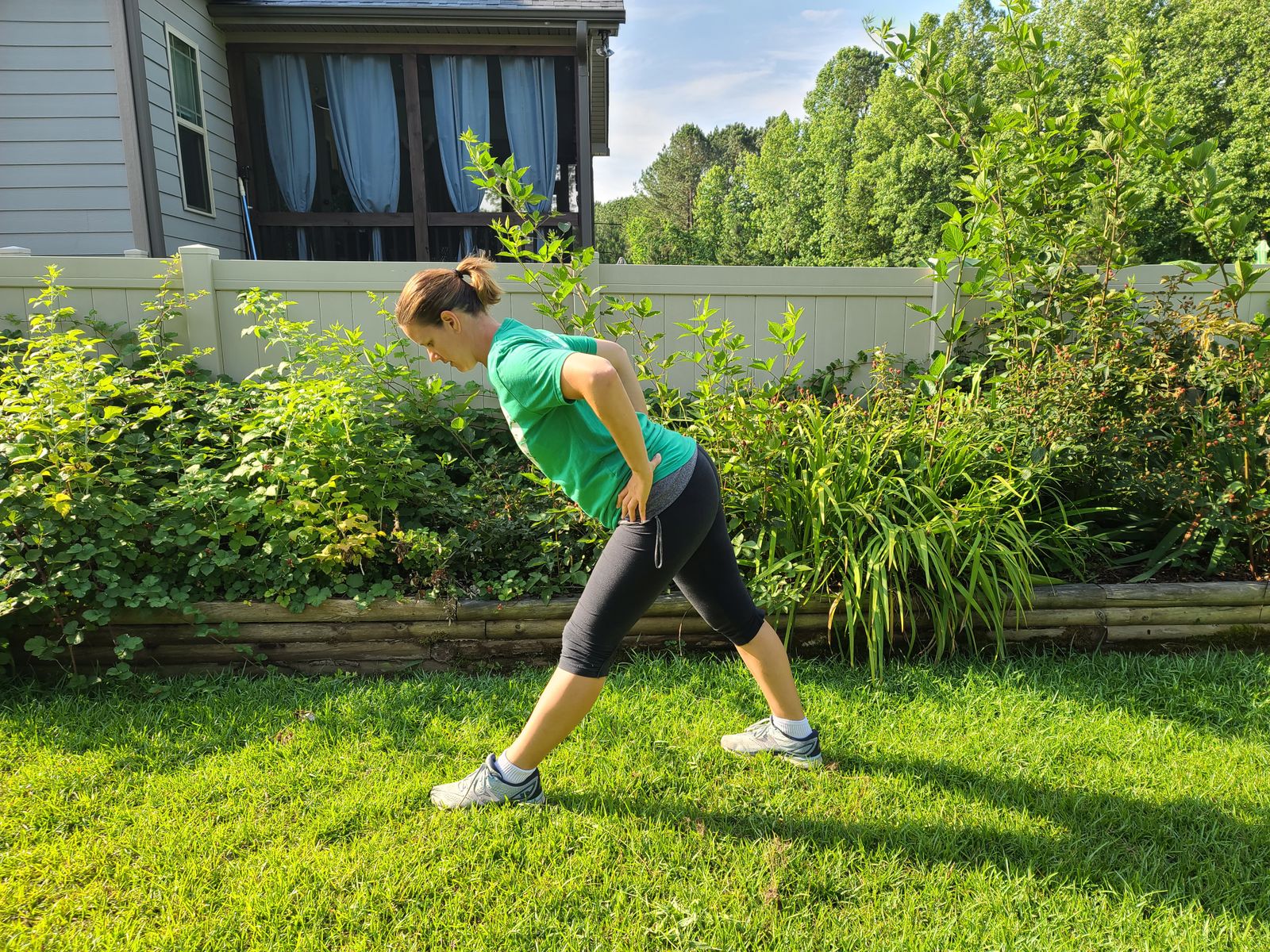 6. Crescent lunge
This pose is wonderful for balance, strength , and releasing the front of the hip. Start standing with your hands on your hips, take a big step back with your left foot, keeping the heel lifted. Find stability here. Your front knee stacks over the ankle and your shoulders stack over the hips. Keep your hands on the hips and find a neutral pelvis, maybe bending your back knee just a bit to find that stability. Stay here or maybe raise the arms overhead. Stay for several breaths and then switch sides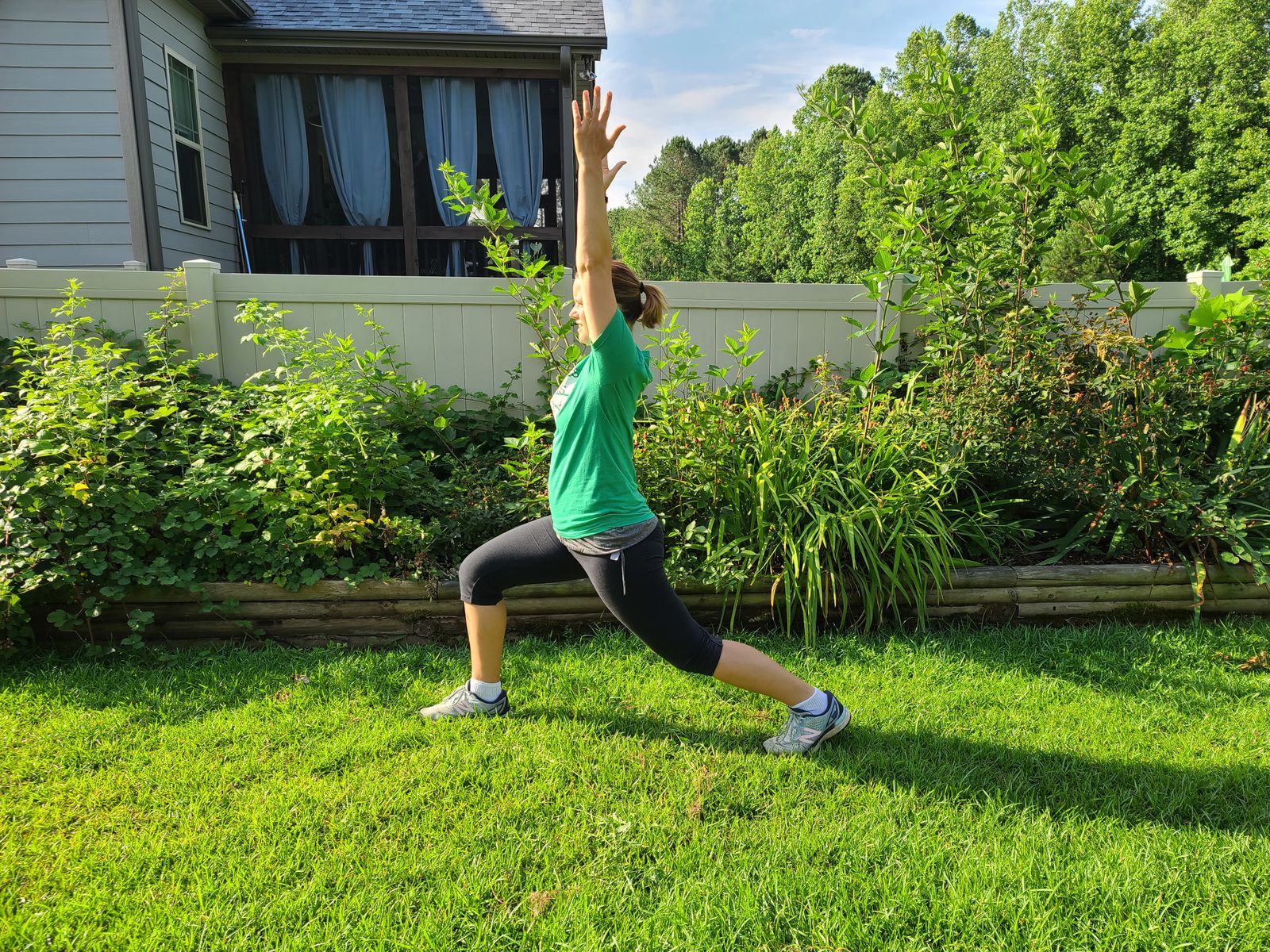 7. Crescent Lunge with side bend
Come back into the lunge position and inhale your arms overhead, as you exhale start to lean your torso to the side of the front leg and breath. This continues to stretch the front of the hip and moves through the side body as well. Stay for a few breaths and then repeat on the other leg.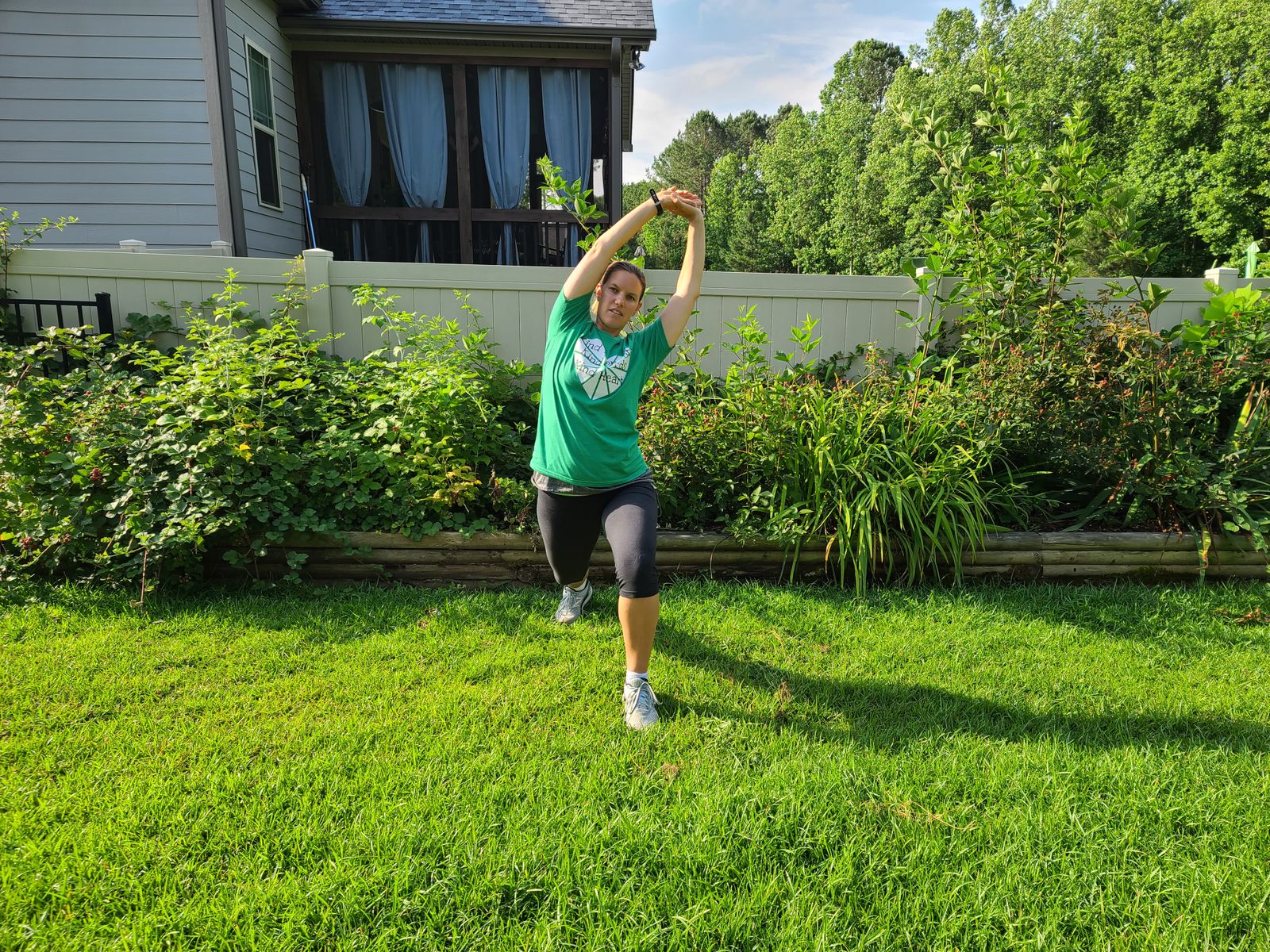 8.Standing Twist
One of my favorites! It feels so good and you can easily do this anytime. Start standing and let both arms reach out in front of you palms facing each other. Take a breath in and as you exhale drop the left arm down and reach as far back as is comfortable, inhale come back to center and exhale to the other side. Alternate a few rounds each side, keeping long in the spine and twisting only as far as is comfortable. It may feel nice to then come back to each side and hold it for a few breaths. This pose is great to help release tension in the low back.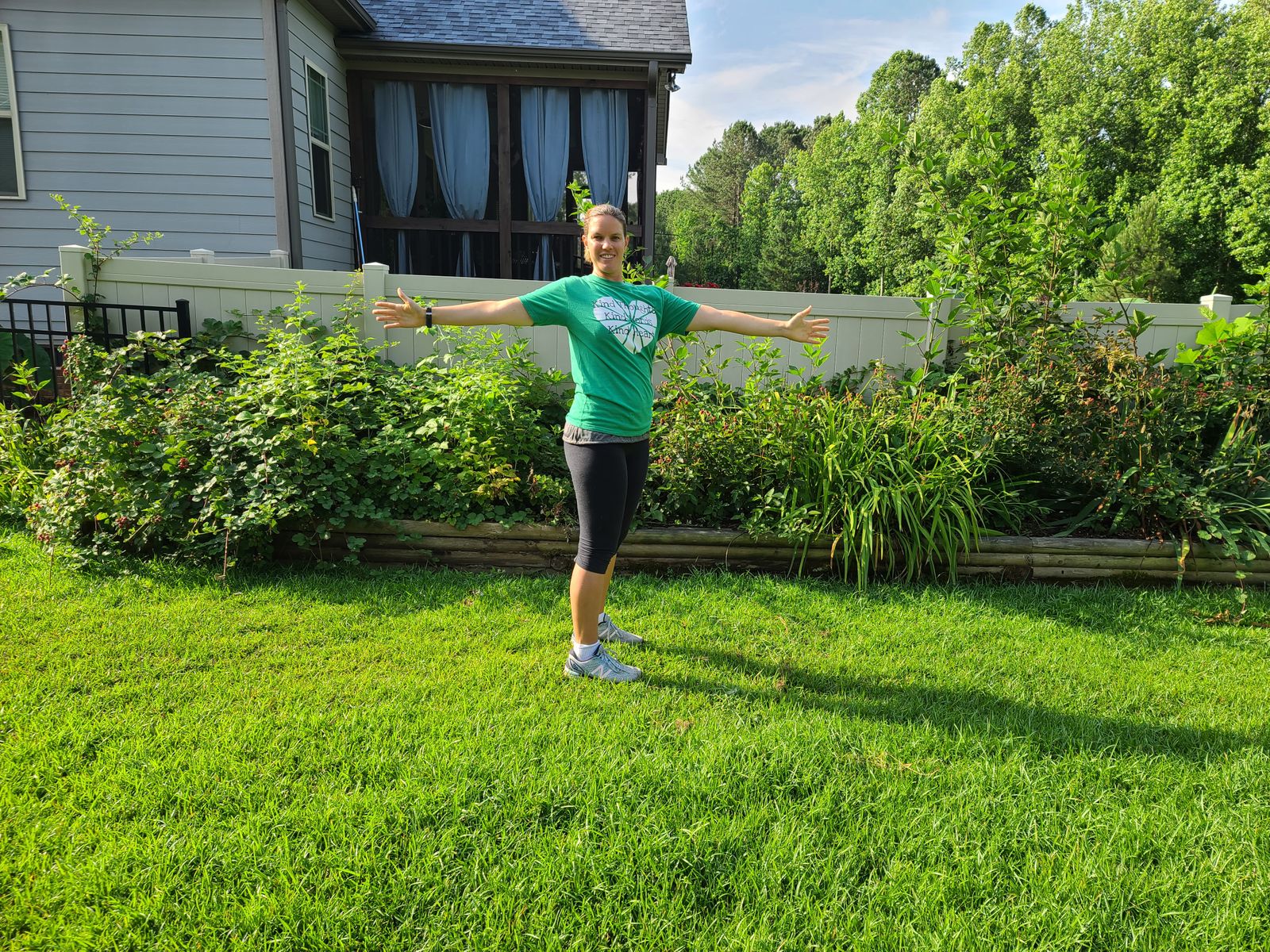 9. Chair Pose
Builds strength in postural muscles, quads and core. Start standing feet hip distance apart. Hands can start on your hips or at heart center. Start to sit back with your hips leading. If you peak down you should be able to see your toes, if not sit your hips back a little more. Keep your chest lifted. You don't have to come down far here, always checking in with what feels right as you progress. Stay for several breaths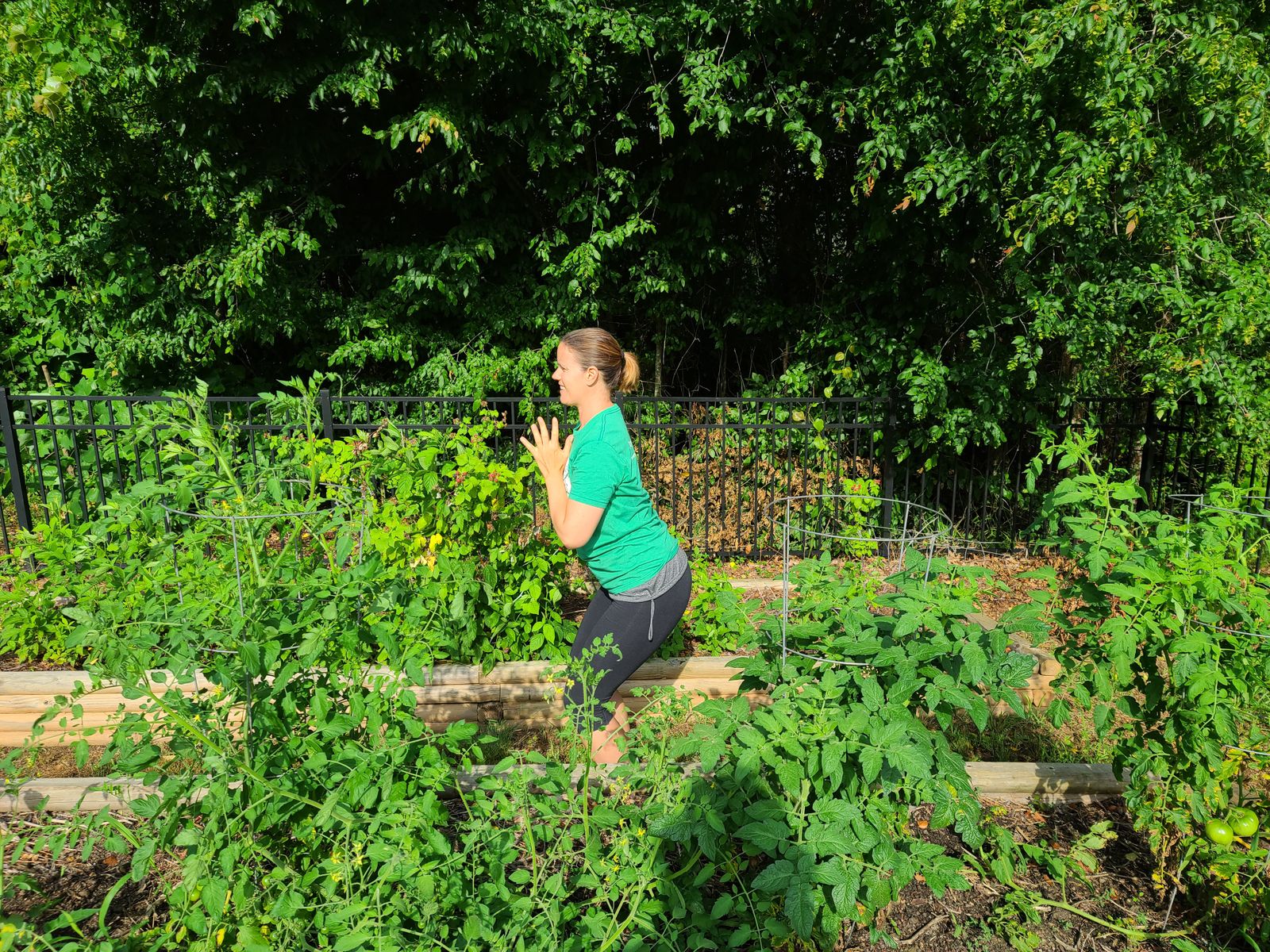 10 Standing Pigeon
From standing, shift your weight to your left foot and lift the right knee, crossing the ankle on top of the opposite thigh.The foot should stay flexed. You can stay standing or start to hinge from the hips sitting back as in a chair, keeping your chest lifted. Arms can be anywhere helping to balance. This pose helps to open the hip, release the glute, and build balance. Do both sides.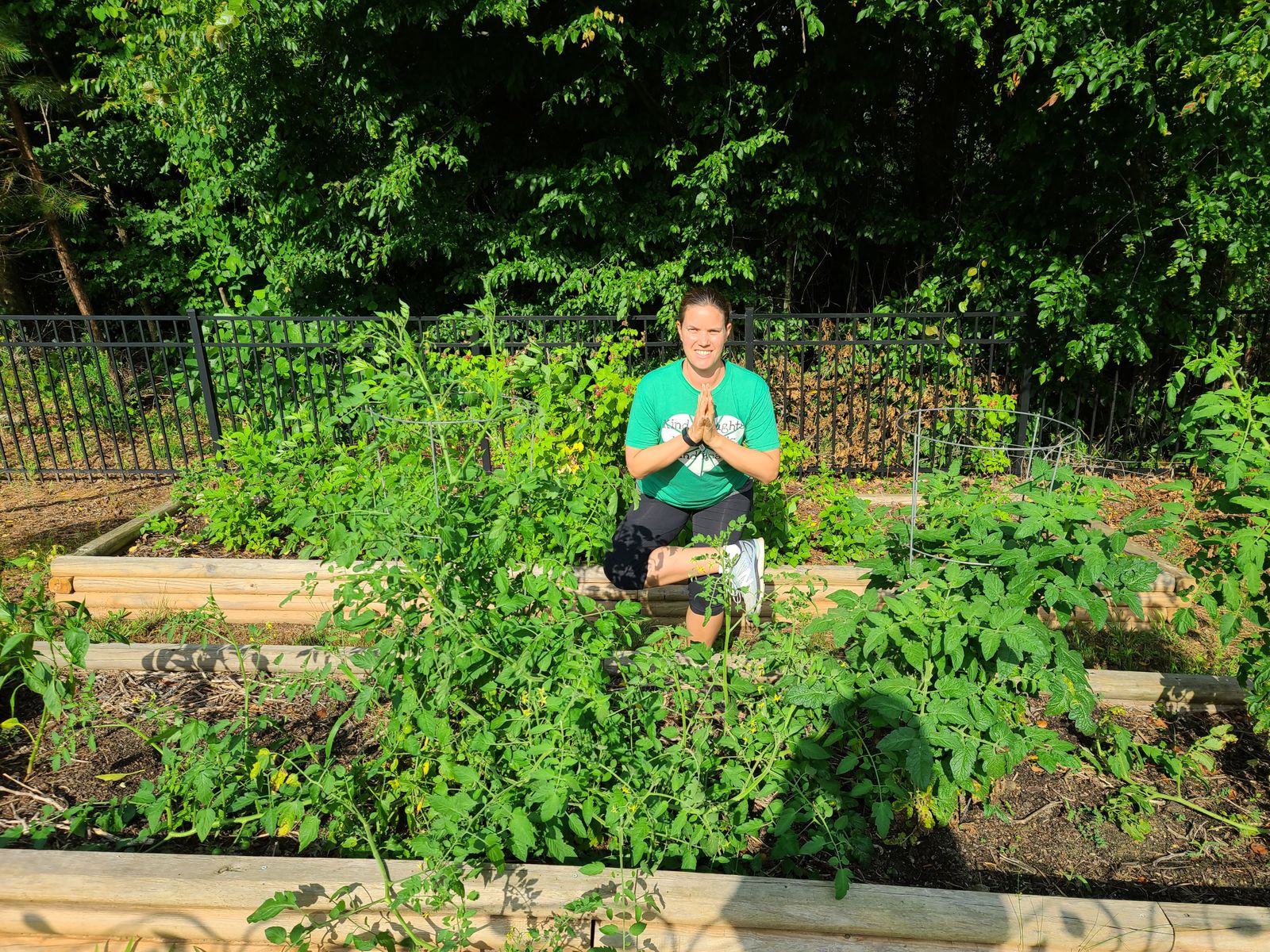 11. Standing Flow
This short little flow between poses helps to open the chest and stretch the back. Start standing, as you inhale bring your hands behind you and open the chest, as you exhale, soften the knees and bring the arms in front interlacing the fingers and broadening across the back. Keep moving with the breath inhaling as you open the chest and exhaling as you stretch the back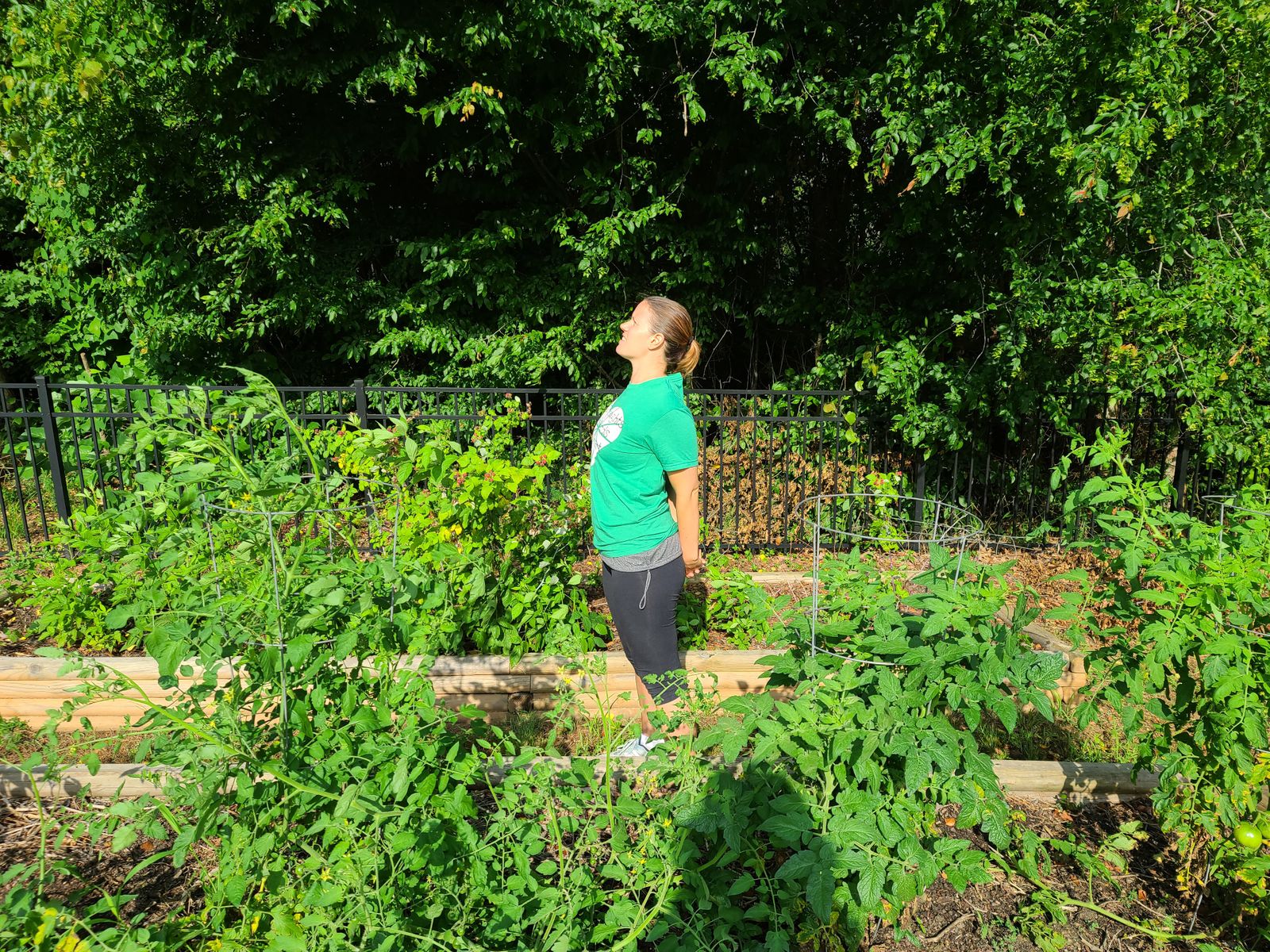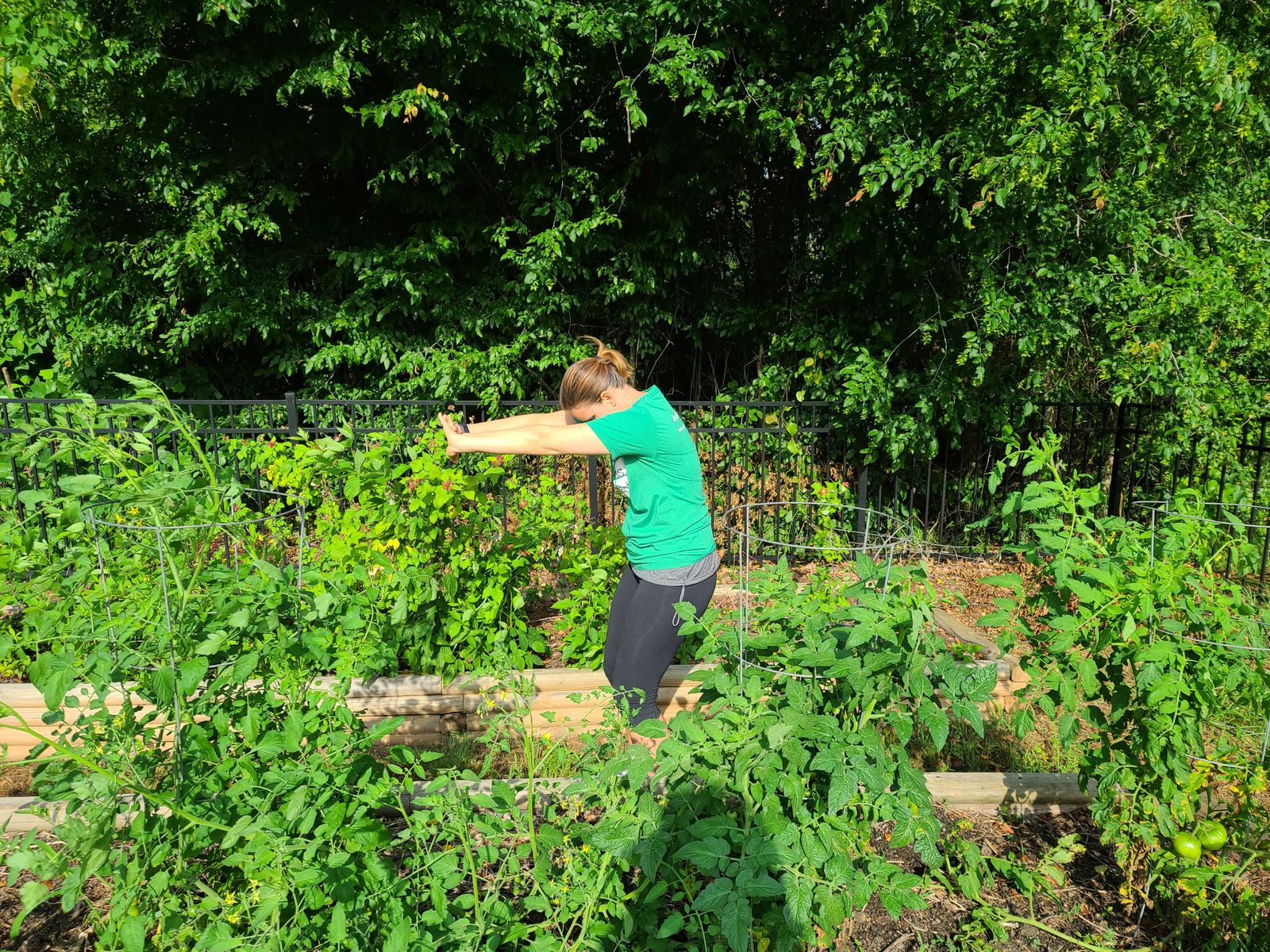 11. Breathing
Make sure you take some time to sit with all you have done. Allowing the breath to slow down and the body to relax. Take the time to enjoy all your hard work. You can look at your flowers and plants. Taking in all the stages of growth that happens . Embrace yourself in the same way. It takes time, first we must make space for the garden, then we plant the seed, the longest stage is the nurturing and nourishing of the garden, pulling the weeds, watering. We wait.... we wait.... then we see the blooms. We are much in the same way. Be patient with yourself.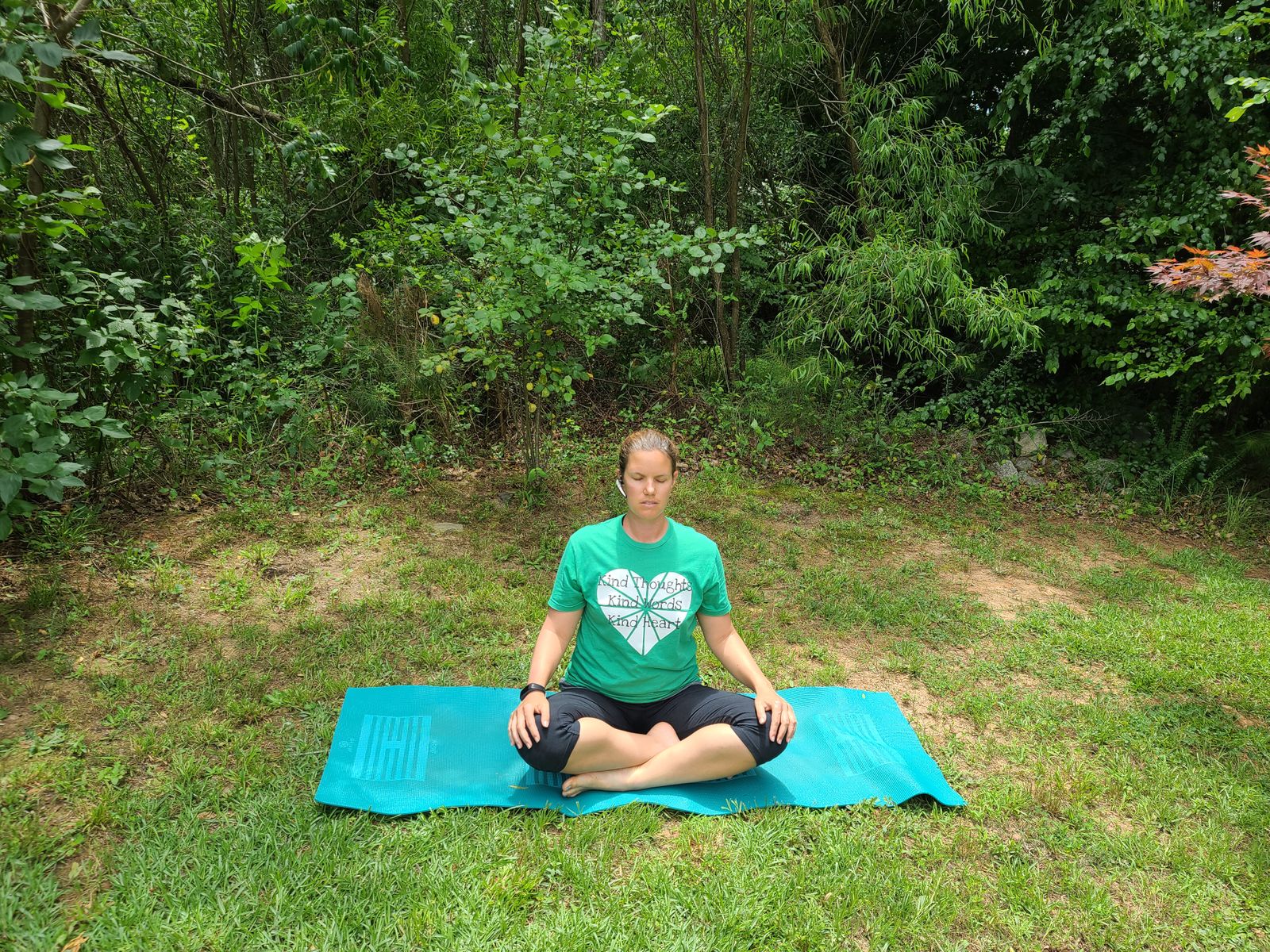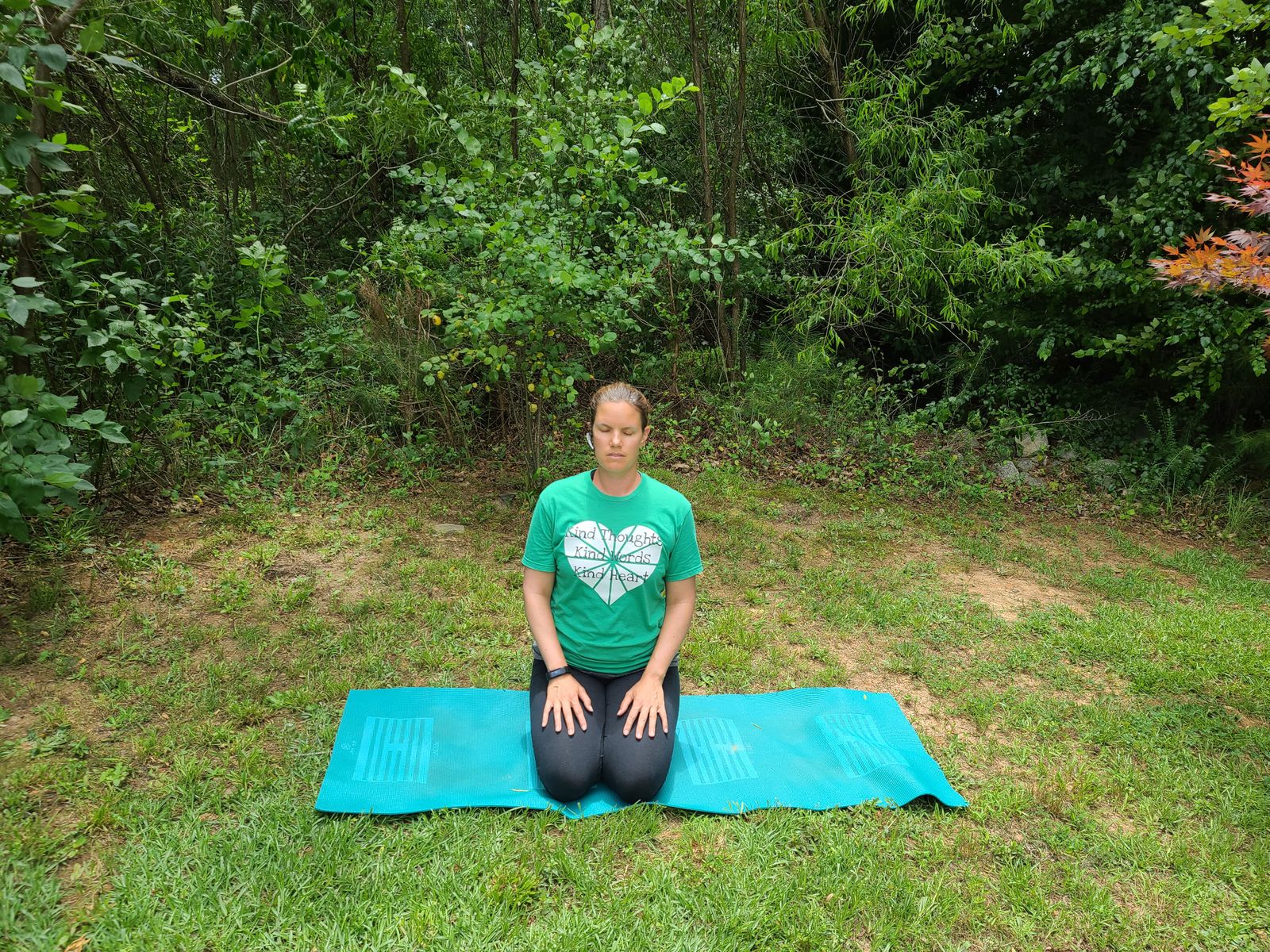 Feel free to do some or all of these poses as feels good. If you want to do a yoga practice separately either before or after you've spent some time in the garden,( Of course this sequence can be done by anyone) check out this video that I filmed outside. It's always nice to take your practice to a new place and if you're able to let nature be your music, it adds to the connectedness.