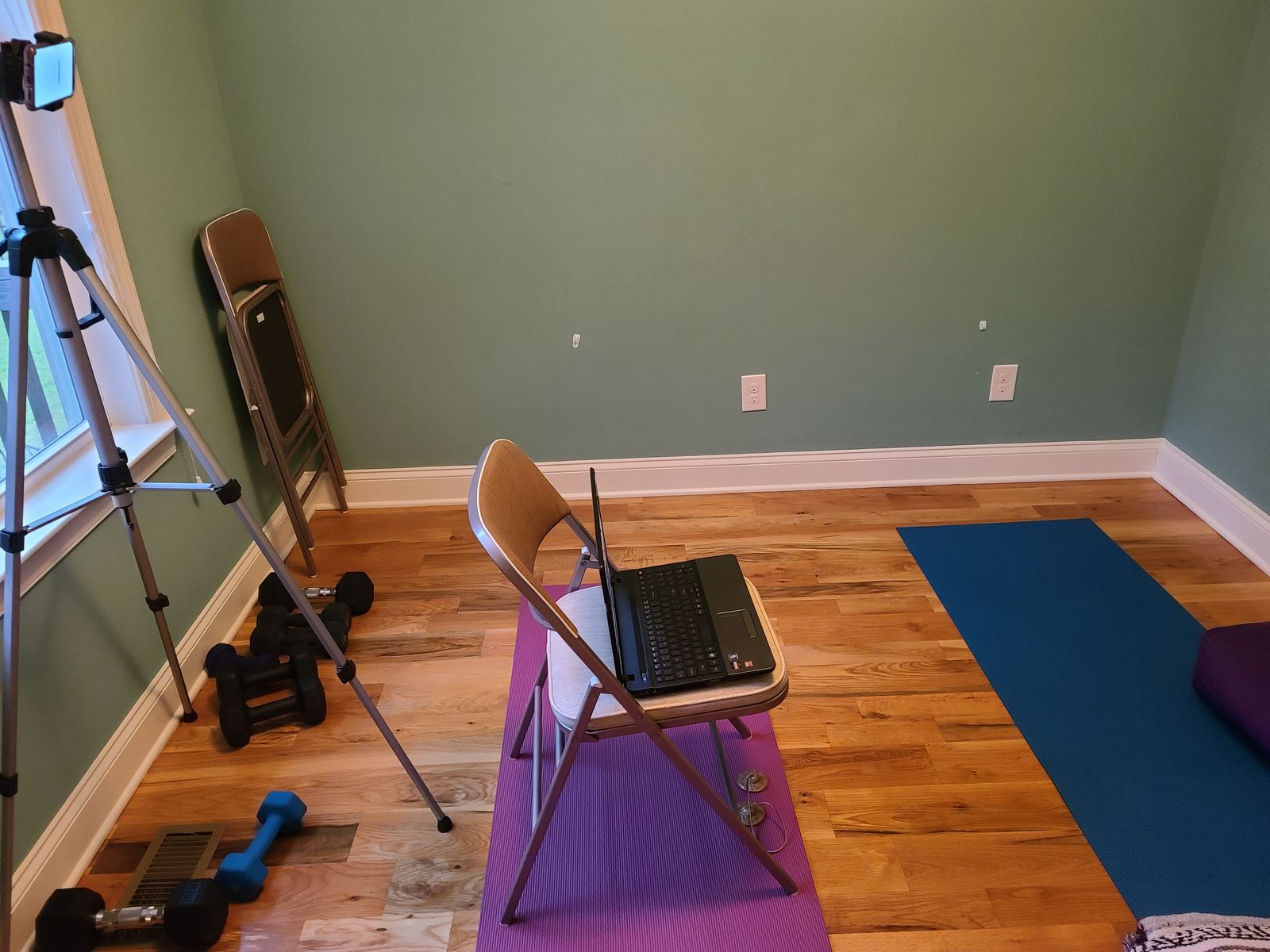 If you would have asked me 6 months ago, about zoom, I would have thought you were talking about a noise a kid makes when playing with cars. Fast forward and I am connecting with family and friends and teaching yoga classes on the platform.
I don't consider myself a techie at all. I've had the idea for creating an online membership with pre recorded videos for a while now (it's coming in July!), but it was the tech that was holding me back. I had no idea how all the pieces would fit together.
Then the gyms had to close. I had no way of reaching my students in person. I started following others who were taking their classes live and I learned. It wasn't as hard as I thought it would be. Plus, we needed it, so I think we were all open to trying and learning something different because we had to.
We needed connection, we needed to talk to other people, see other people, and have some sense of accountability to be in a place at certain time.
I've now been teaching live online for over 2 months. It's different than in person classes for sure. I think there are many benefits. I checked in with some of my students to see what their thoughts were by asking them some questions:
1. How were you feeling about taking classes online before you joined in?
Some were already comfortable because of work or using it in some capacity already. Others were excited to try because they needed something, but nervous how it would work. Others were like me; how would they figure out the technology? What? How do I see you and hear you and hook it all up? Check out my how to guide here
2. What made decide to try it?
Many of the students that tried were already working with me in some capacity so they trusted me and felt it was worth a try because they wanted to continue their yoga. I've had others try because they found me online and again wanted that connection when there was no other option.
What's holding you back? Are you at that point yet that you're missing your yoga or your routine that you're willing to try? Believe me if you have a teacher that you love, they will make you feel comfortable and walk you through the tech so that you can keep practicing your yoga. Maybe you've never tried yoga before and now you can start a practice from the comfort of your home!
3. How are you feeling about practicing online now?
The answers were so positive. I love it! I really like; it travels with me; I was surprised at the connection you can still feel online; it feels like you're (the teacher) is right there with me; I'm able to do more because I can squeeze it into my day. I like doing it in my living room. The accountability of someone waiting for me.
When practicing online, you are in your own space which can come with distractions, but no one is watching you, you aren't watching anyone else. You save time by not having to drive to and from the studio or gym. You are able to schedule it into your day so that you show up for yourself, which sometimes we need to know that someone is waiting on us and to give us a nudge to do it. On our own we sometimes can find excuses not to do it or stop in the middle.
As the world begins to reopen, I know that it will be a while before we are able to practice together the way that we once did.
I feel so grateful that I stepped outside of my comfort zone to learn a new way of connecting and that so many of my students decided to join me. If you have been thinking about it, or if your practice has been dropping off or less consistent; I hope you will try it.
If you have never tried yoga before and are reading this because now you think you want to try it, I hope the answers above encourage you to do it in your own space.
Yoga studios, gyms, YMCAs all over the world are coming online right now. You could practice with someone who you've never been able to before, or reconnect with a teacher you loved that moved away. I would love for you to join me for a live class.
If you've been on the fence, I hope this has pushed you over and the next thing you do is look for a live class and sign up!
Wishing you the best as you look to find your yoga and may it continue to evolve as you evolve every day.